Children's Ministry
At Christ the Redeemer, children are participating members of the Body of Christ.  Children are capable of having a genuine relationship with God. In fact, Jesus teaches that in order to relate to God well, adults must become like children.  Jesus said, "Let the children come to me, and do not hinder them, for the kingdom of God belongs to such as these" (Luke 18:16).
While the home ought to be the primary place for the formation of a child, we offer opportunities for growth that are appropriate to children's specific physical, emotional, and spiritual needs.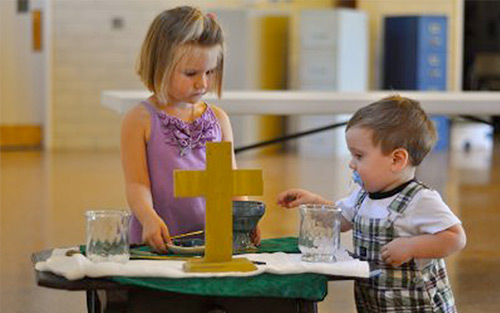 The Nursery (0 – 3 years old)
Available during our 9:00am and 11:00am Sunday services, as well as most special events. Christ the Redeemer's nursery provides a safe space for our smallest parishioners to work, sing, and fall in love with Jesus. The purpose of the toddler ministry is to prepare the hearts and minds of 0 – 3 year-olds for Level I of our children's formation program, Catechesis of the Good Shepherd. (However, if a 3 year-old child is ready to move into Catechesis, this is encouraged!) We take the safety of our children very seriously. All of our wonderfully loving, dedicated volunteers have undergone formal vetting and training processes, including background checks on both state and national levels and SafeChurch Training.
Catechesis of the Good Shepherd (3 – 12 years old)
Catechesis of the Good Shepherd (CGS) is a children's ministry program that invites children to encounter God. It's an approach to Christian Formation in which children and adults listen to God together and experience God's gift of love through multi-sensory Scripture presentations, contemplative work, and times of prayer. CGS is rooted in the Bible and the Liturgy of the Church. Children gather in a room specially prepared for them called an "atrium," which contains hands-on materials that the children work with, like a model altar or a diorama of Jesus' life. They also gather around a prayer table each week to listen and talk to God. Catechesis of the Good Shepherd is offered:
• 9:00 am — During the sermon, children ages 3-8 are invited to gather in the Baptistry for a time of prayer, scripture, and song.
• 10:00 am — Formation Hour: Children ages 3-5 meet on the Parish Hall stage. Children 6-8 meet in the Sheepfold. Children 9-12 meet in the Baptistery.
• 11:00 am — At the singing of the Gloria, children depart for Catechesis in procession, following the Cross. Children ages 3-5 go right to the Parish Hall; children ages 6-8 go left to the Sheepfold. They return during the Offertory for Holy Communion.
To learn more about Catechesis of the Good Shepherd, you might start here!
Junior High
Junior High youth meet weekly on Sunday afternoon in a home setting. Their time begins with Bible study and leads to questions, discussions and creative response. The afternoon activities end with a peer-led time of worship.
Senior High
Senior high parishioners gather biweekly in the sacristy for lunch and discussion after the 11 a.m. service. Girls meet on Sunday afternoon in a home setting for Bible study, discussion and fellowship. The Senior High youth also engage in community service projects and an annual weekend retreat. Christ the Redeemer has supported two short term mission trips for Senior High youth in recent years.
All Junior and Senior High youth are also welcome to a weekly youth gathering Tuesday evenings from 6:30 p.m. to 8:00 p.m. This is a night of games and other fun activities, with a shorter time of discussion and singing. It is a great opportunity to invite friends who may not regularly attend church.
Mentoring
Starting in 9th or 10th grade, baptized youth in the congregation who are preparing for Confirmation choose an adult mentor with whom they develop a close relationship. Together the mentor and young person study To Be A Christian, An Anglican Catechism. By studying this text the adult mentor and catechumen explore what it means to be a Christian and how to live a committed life.
Want to join us this week?
Want to join us this week?