"For you, O Lord, are my hope,
my trust, O Lord, from my youth." Psalm 71:5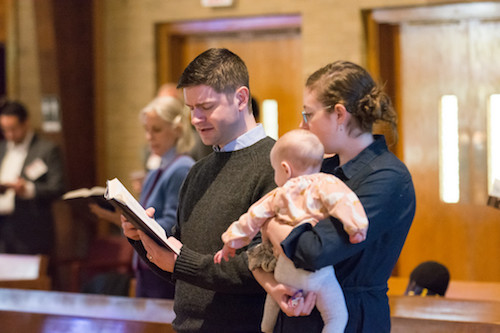 At Christ the Redeemer, children are participating members of the Body of Christ. Children are capable of having a genuine relationship with God. In fact, Jesus teaches that in order to relate to God well, adults must become like children. Jesus said, "Let the children come to me, and do not hinder them, for the kingdom of God belongs to such as these" (Luke 18:16).
While the home ought to be the primary place for the formation of a child, we offer opportunities for growth that are appropriate to children's specific physical, emotional, and spiritual needs.
The nursery at Christ the Redeemer is designed to be a prelude to Catechesis of the Good Shepherd. The interior space is organized and intentionally filled with wooden toys, books, and cozy places creating an atmosphere where the youngest in our church family can encounter Jesus. Each week these little ones are led in worship though song and prayer, as well as child-led play and investigation of nursery materials. For more information on our nursery policies or with any questions, please email Rachel Nimon.
Catechesis of the Good Shepherd (3–12 years old)
Catechesis of the Good Shepherd (CGS) is a children's ministry program that invites children to encounter God. It's an approach to Christian Formation in which children and adults listen to God together and experience God's gift of love through multi-sensory Scripture presentations, contemplative work, and times of prayer. CGS is rooted in the Bible and the Liturgy of the Church. Children gather in a room specially prepared for them called an "atrium," which contains hands-on materials that the children work with, like a model altar or a diorama of Jesus' life. They also gather around a prayer table each week to listen and talk to God. To learn more about Catechesis of the Good Shepherd, you might start here!
We love students here at Christ the Redeemer! We believe that God can bring transformation into the lives of students, and all that we do in Youth Ministry is created to help students be transformed through the love of God. We strive to walk with students as they take meaningful steps in their relationship with God.
Our youth ministry has three priorities:
Teach students about God and help them encounter Him.
Experience community and connect to the larger body of Christ.
Take part in the work of Christ by serving and telling other about Him
The Youth ministry meets most Sundays at Christ the Redeemer from 4:30—6:00 pm. During the night, we spend time playing games, studying the Bible, and praying for each other.
If you have any questions or would like the most up to date information, email Wes Buckley to get weekly emails.