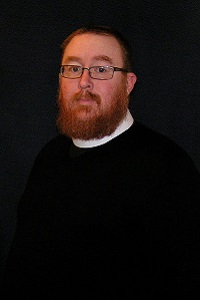 Deacon Scott Donis and his family moved from the Western United States to the North Shore to attend Gordon-Conwell Theological Seminary.
During his time in Seminary, Dcn. Scott felt drawn toward Anglicanism and began attending CTR shortly after its formation in 2009. He was ordained to the deaconate in the Fall of 2015 and has served at both Christ the Redeemer and at St. Nicholas House in Brookline, New Hampshire.
In his free time, Dcn. Scott enjoys watching movies, playing board games, learning and developing new skills, and making food from scratch. He and his wife, Sarah, have four children and one dog. He looks forward to the day he can take up bee keeping and raising chickens.