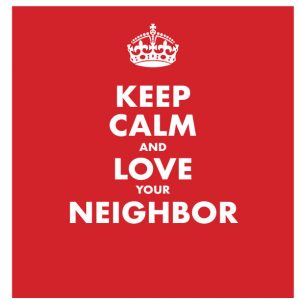 The entire "Keep Calm and Love Your Neighbor" series can now be found here.
______________________________________________________
 I See Satan Fall Like Lightning
The final weeks of our Keep Calm series were spent looking at a very unusual but insightful book: I See Satan Fall Like Lightning. Author Rene Girard (1923-2015) was a French Catholic literary critic and anthropological philosopher, who shocked the Paris intelligentsia at the turn of the new millennium when his theological work became a best-selling book there. The title is taken from Jesus' words to his disciples in Luke 10:18 upon their return from the mission on which he sent them. But why did he say this? And what did he see?
In exploring these questions, Girard offers an explanation for much of what is good in Western culture, and where much has gone to extremes. More specifically, he offers a root idea for what has made Western culture unique, and what is the defining energy behind it. But in spite of having this extremely wide angle of view, the book also speaks to realities that come home to us everyday, to issues that are being played out before us in (seemingly) ever-increasing intensity.
Though only two of the four week discussions are available for listen, we hope you are intrigued by what you hear and encourage you to explore Girard's paradigm-shifting work for yourselves.
______________________________________________________
23 April: Loving our Neighbors who are Children in especially Vulnerable Circumstances (due to tech hitch, no audio available)
Fr Brian and a team who have been discerning how the Lord may be calling us to be involved in caring for vulnerable children on the North Shore share about what they have found, what is already beginning to take shape and how we can join this calling.
_______________________________________________________
Fr. Tim dialogues with parishioners and friends of CTR about tools for being brave, patient and authentic listeners while sharing our faith, and the joy of Christ with our friends and neighbors.
5 March: Brent Fryling – Loving Our Immigrant Neighbor   Brent is a doctor at the Lynn Community Health Center. 
12 March: Fr. Malcolm Reid – Working with Our Neighbor for the Common Good   Fr. Malcolm is a member of the Wenham Conservation Commission.
19 March: Eric and Jennifer Keifer – Loving Our Neighbor Through Adoption  Eric and Jennifer are parents of eight: five children born to them, and three siblings they adopted.
26 March: The Reverend Tom Haugen – The Spiritual Questions of Our Student Neighbors The Rev'd Tom is Chaplain of Gordon College. (due to tech hitch, no audio available)
 2 April: Personal Stories from Bishop Bill Murdoch
29 January: Dr. Nick Rowe – The Art (and Sweat) of Peacemaking   Prior to becoming the new Dean of Student Engagement at Gordon College, Dr. Rowe has served in South Africa at St. Augustine College, for the past decade, where he led the development of the undergraduate program—itself a notable feat, but even more so within the country's historical context. "Even 20 years after the fall of apartheid," he says, "there's such a massive backlog for access to education, which is seen as the chief way to escape poverty for a lot of students." He taught in the graduate education program and, on one significant occasion, stepped in as interim president. Widely experienced in conflict resolution and reconciliation, Dr. Rowe helped establish the College's peacebuilding and peace studies program and spent considerable time consulting organizations that, in his words, "are still trying to work out how to coexist after 1994." He and his wife, Sheila, also co-founded Rebecca's Well, an NGO focused on women's empowerment.  
5 February: Sheila Wise Rowe – The Art (and Sweat) of Peacemaking II Sheila co-founded Rebecca's Well, an NGO in South Africa focused on women's empowerment.  Sheila continued to grow the organization throughout her time in South Africa, with her husband Dr. Nick Rowe. Sheila holds a Master's degree in Counseling and is passionate about walking alongside individuals, couples and groups seeking healing and restoration. She has a particular call to minister to current and emerging leaders in the church and society. Nicholas holds a Ph.D. in history and has taught at universities across the globe. He too is passionate about healing the whole person, as well as ethnic and racial reconciliation. Sheila and Nicholas have written several publications including this book which is used internationally in the intensive healing ministry of The Well of Life Groups. Through their ministry, God's healing grace has transformed the lives of hundreds of individuals, couples, families, churches and organizations, across the USA, South Africa, Zambia and France. 
12 February: Zeke Smith – Keeping Kids & Youth Healthy on and around Social Media Former professional sports photographer, Zeke now serves boarding school students in the Boston area as an on-campus pastor with FOCUS.  (due to tech hitch, no audio available)
19 February: Chris Warne – Experiencing the Gospel Through the Eyes of our Neighbors Chris is a Gordon College grad who spent a few years on mission in Kazakhstan upon graduation and now is at Gordon-Conwell. He is working with Fr Tim around the question of what makes for effective witness in New England.
26 February: Trent Sheppard – Jesus was our Neighbor, Human Like Us Director of Campus Alpha in the Boston area, Trent will share with us about his new book: Jesus Journey: Shattering the Stained Glass Superhero and Discovering the Humanity of God.
22 January:  Working for Common Good
15 January:  The Centrality of Forgiveness
8 January: Jesus Touched the Untouchable
18 December: Prayer, the Holy Spirit, and Discernment
11 December: Asking Questions, Getting Underneath…
4 December: Sharing Stories